Read Full Review
The human mind is an amazing machine and is capable of some miraculous feats that confuse the most learned scientist. We know little of the mind, except that it is powerful and we don't tap into its full potential. There are plenty of people who are interested in uncovering the truth about the mind and utilizing its full power. There are a corresponding number of self-help books available on the Internet that claim to allow access to these hidden depths – but most of them fail to deliver on their promise.
---
Meditation Mastery's – Mindfulness Meditation
The main reasons for human suffering is all within the mind. Instead of searching the meaning within themselves, they often seek solutions outside their mind.
Read More
Learn More
The Law Of Attraction – A 30 Unit Course
Are you struggling with the fact that you have no idea how to use all the manifestation tools of the Law of Attraction? Well buck up: This year marks a paragon time to get hold of your personal development and get everything you ever wanted.
Read More
Learn More
---
The Secret Of Deliberate Creation and The Law Of Attraction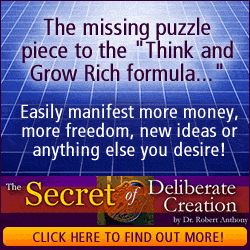 "If you approach manifesting what you want the way most of these "experts" tell you to, then you will be very disappointed. While it is important to set your intention, think positively and have a strong belief, it only represents a part of what you must do to deliberately create the things you desire." - Dr. Robert Anthony
Read More
Learn More
Enoch Tan's Mind Reality
Learn how to harness the best parts of metaphysics, quantum physics, psychology and philosophy plus many other methods and techniques you may never have heard of for creating the reality of your dreams.
Read More
Learn More
---
The Law of Attraction simply says that you attract into your life whatever you think about.  Your dominant thoughts will find a way to manifest.  But the Law of Attraction gives rise to some tough questions that don't seem to have good answers.  I would say, however, that these problems aren't caused by the Law of […]
Read Full Article
---
One of the biggest mistakes one can make along the path of spiritual growth and consciousness development is the belief that we live, move and have our being in a world of objects. You don't. You live in a world of energy. Objects are separate. Energy is continuous. Objects have gaps between them; they can […]
Read Full Article
---
How to Become Aligned With Your Desires Oneness is the state of being free of resistance towards what's arising within your reality, which in subjective language we can call the simulation. Oneness is a sense of cooperation between you and the simulation. It means that the simulation is delivering what you desire — and that […]
Read Full Article